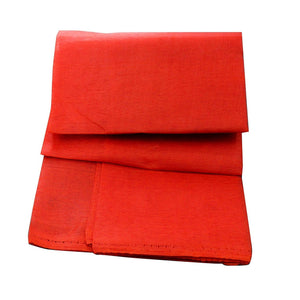 1.25meter
El color rojo de la tela de algodón rojo tiene un gran valor en la cultura india. La tela de color rojo se usa en casi todas y cada una de las pujas. 
Un paño rojo de algodón de buena calidad de 1 metro (1,25 yardas) para pujan. Ropa de altar para colocar sobre pedestales de deidades, tronos y para ofrecer a los ídolos de deidades. Esta ropa también se usa en ceremonias rituales. Colocar un mantel de altar es un signo de respeto hacia la deidad. También se utiliza para ceremonias y rituales de pujan. El paño de algodón de holy mart para puja!
Red cotton cloth red colour has a great value in indian culture. Red colour cloth is used in almost each and every puja. A good quality cotton red cloth of 1 meter(1.25 yards) for pujan purpose. Altar clothes for putting on deity pedestals, thrones and for offering to deity idols. These clothes are also used in ritual ceremonies. Laying an altar cloth is a sign of respect towards the deity. It is also used for pujan ceremonies and rituals. The holy mart cotton cloth for puja!